Configure your Local Pickup Plus Product Pickup Settings
Step 3 of the Set up Local Pickup Plus series.
Local Pickup Plus allows you to configure how products should be handled with regards to Pickup or Shipping. Products can be set to require pickup, or, not allow pickup, depending on your business needs.
Required: Local Pickup Plus is a premium WooCommerce extension included with WordPress Ecommerce Hosting or as a standalone purchase.
You can establish a product or category's eligibility for local pickup in one of the following ways:
Can pick up: Customers can ship or pick up.
Cannot pick up: Customers can only ship.
Must pick up: Customers can only pick up.
When creating or editing a category, update the Local Pickup menu to decide if local pickup is allowed or required for products in this category.

When creating or editing a product, go to the Shipping tab and update the Local Pickup field to determine if pickup is allowed, required, or if the product should follow its category-level settings. When a product and its category have different settings defined, Local Pickup Plus will follow the product-level settings.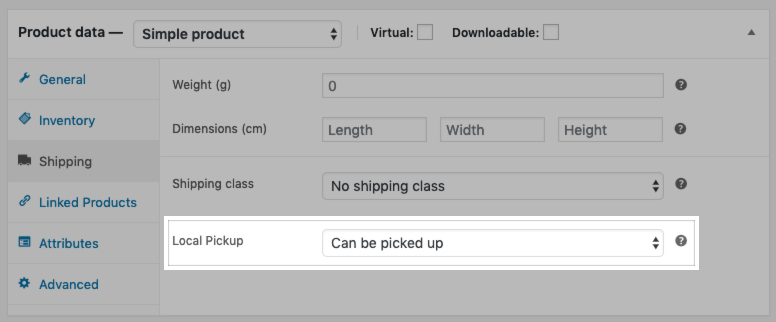 More info